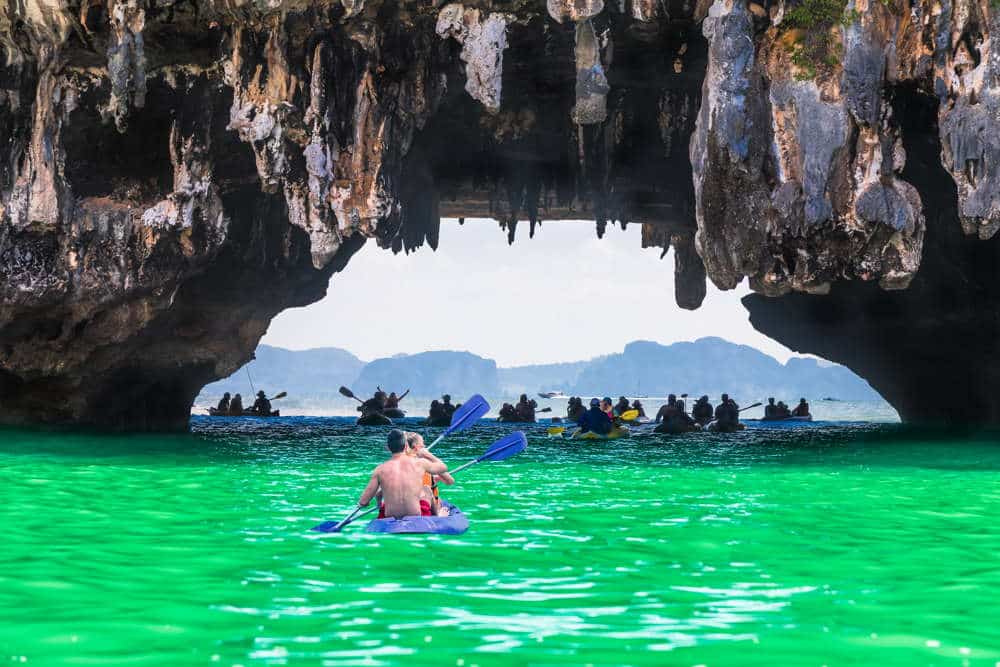 22 Feb 2023
A Guide to Phang Nga Bay
Phang Nga Bay is one of the most famous places to visit when you are in Phuket. You can visit the amazing island of Phang Nga Bay whether it's sunny or even when it's raining.
The diversity of the limestone cliffs and caves give people the opportunity to visit the island in the high and low season; every time is an amazingly different experience.
It is located roughly 20km north of Phuket Island and 40km from the pier, where most people depart from.
How to get to Phang Nga Bay
Luckily there are many options to choose from in Phuket to get to Phang Nga Bay. Some of the most popular are:
Kayak Day Trip
Private Cruises
Speedboat
If you're feeling up to it, you can always drive to Phang Nga Bay from Phuket and it is quite fun! The road leading up to Phang Nga Bay is covered with the same limestone cliffs and vegetation.
Once you reach the intersection of Phang Nga Bay and Krabi road, you will definitely want to make a stop, and check out the beautiful hidden park which is hidden. This park is a maze of caves that are certainly worth exploring.
The park also has food and drink stalls if you want to take a break and have a small picnic, but make sure to keep an eye out for the monkeys, they are known for going around and stealing people's food!
However, if time is of the essence then the most luxurious way to reach the region is aboard a Phang Nga Bay speedboat tour that gets you there quickly and in supreme comfort.
What to do in Phang Nga Bay
Some of the most breathtaking landmarks are located in Phang Nga Bay. Limestone cliffs and caves can be found everywhere in the bay, some of them have even been included in movies.
James Bond Island
The most well-known attraction is James Bond Island. Named after the famous movie James Bond: The Man with the Golden Gun.
Koh Tapu is the real name of this rock formation, which translates to Nail Island, a suited name since the rock is tall and thin, resembling a nail.
Koh Panyi
A close competitor to James Bond Island for top tourist attractions is Koh Panyi. At times it gets just as busy as James Bond Island, so if you're looking to go exploring during a less busy time, make sure to not visit during 'rush hour.'
Koh Panyi is a surprisingly large village that is built on stilts! Most locals live off mainly fishing and the tourists which visit the island.
The cave of reclining Buddha
Make sure you don't leave the cave of reclining Budhha off your top sights to see when visiting Phang Nga Bay.
When you visit Wat Suwan Khuha, you will be taken away by the massive golden reclining Buddha which is tucked away inside a cave.
Don't forget to be cautious of the monkeys near here, as they are known to act naughty and mischievous.
Laem Haad Beach
While you're leaving Phang Nga Bay, make sure you don't miss Laem Haad Beach.
Laem Haad Beach is at the very north of Koh Yao Yai and it is one of the most beautiful beaches with shimmering sand and clear blue water.
Surrounding Islands
Koh Panak
If you're searching for a small and secluded beach, then Koh Panak is the island for you. Koh Panak is a small and sandy lagoon with a cave you can access the beach from. Here you will be able to see tropical trees and formations from the stones and sea.
Koh Yao
Two islands make up Koh Yao: Koh Yao Yai is the largest but not many people visit, and Koh Yao Noi is home to the fishing communities of the area.
Koh Yao Noi hosts an array of hotels from budget Airbnb to luxury 5-star hotels. You might not find some of the best beaches here like the beaches in Phuket, but here you will experience the authenticity of Thailand and an amazing view of Phang Nga Bay and the limestone cliffs.
Category
Recent Posts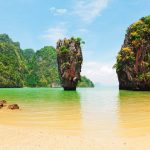 8 Dec 2022
The incredible James Bond Island
read more