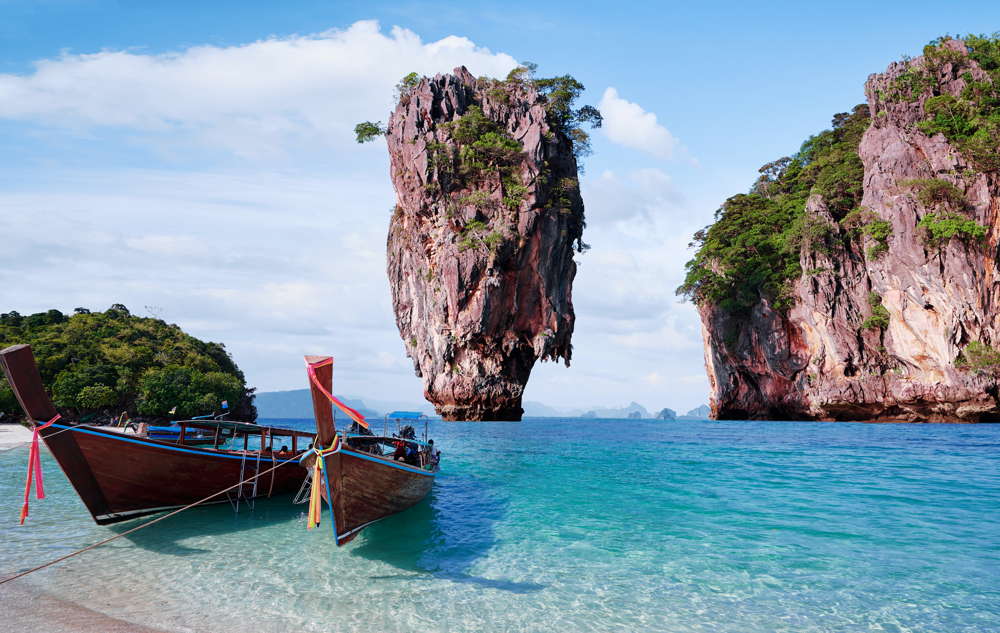 16 Jan 2023
3 Days in Phuket – Maximizing your Experience
If your time is limited when visiting Phuket, Thailand, it's best to plan your days ahead to ensure that you get the best experiences out of your trip. Phuket is a small island, so traveling around can be easy; it takes less than half a day to travel from the north to the south of the island. What we often get asked is what to do in order to maximize time during a short stay. It is with this in mind, that we provide our 3 days in Phuket guide.
Day 1
What makes Phuket an excellent destination for travelers is the vast array of options you can choose from when traveling anywhere on the island. You can explore and relax or party and go on bar crawls; the decision is up to you!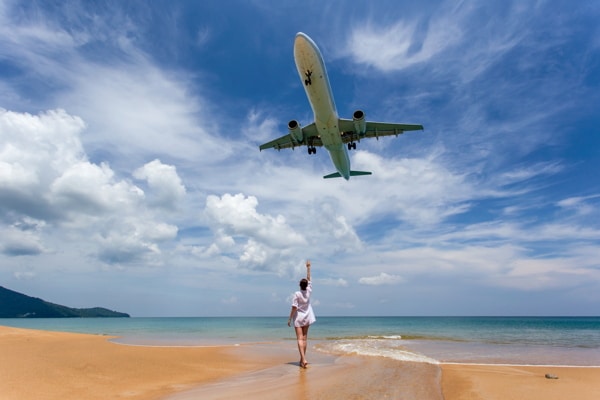 Morning
Laem Singh Beach
Laem Singh Beach has a fascinating back story. For many years the surrounding area around the beach was packed with busy restaurants and bars and beach chairs filling up all the space on the sand. One day the owner of the surrounding land decided not to let anyone cross the beach. There are no private beaches in Thailand, but if someone owns the land around them, they can be difficult to access. Fortunately, there are a few ways to access this creek that not many people know about. If you find someone who knows to tell you, you will be fortunate because this beach looks like something out of a movie; it has soft white sand, beautiful blue water, and coconut trees surrounding it.
Banana Beach
If you're searching for a remote clear beach, Banana beach is for you! It's not one of the well-known beaches because some effort needs to be put in to arrive. First, you must locate the beach and then walk down a slope to access it. But the destination is worth it! Since not many people visit this beach, you can be guaranteed that it's crystal clear, clean, and relaxing!
Mai Khao Plane Spotting
Mai Khao is the beach for you if you want an adrenaline rush while swimming! While it is forbidden to stand in the path of landing planes, the photo opportunities and temptations are just too irresistible. It's a top-rated tourist attraction, and each day people travel to Mai Khao and spend a couple of hours there waiting for the next plane to land. It's a popular attraction because when the plane approaches for landing, it flies very low over the beach. Now that's a once-in-a-lifetime experience!
Afternoon
Visit Old Phuket Town
Once you've relaxed from the beach, you can take a walk in Old Phuket Town. The streets are filled with magnificent Sino-Portuguese historical buildings, which are a pleasure to see. There are also many coffee shops, charming bakeries, and places to eat while you're in town, so you will not be hungry or thirsty when you visit this historic town.
Visit a Phuket Market
Phuket has numerous markets nearly every day of the week. Some markets are open only on weekdays, whereas others are available to visit on weekends. The most famous market is probably the Sunday Walking Street Market, located on the old Thalang Road in Phuket Town. If you're ever near Phuket Town, don't miss the opportunity to visit this spectacular market!
Evening
Rooftop Bar
If you want to relax after visiting the beautiful beaches and markets, you could always finish your day with refreshing cocktails at a rooftop bar. The options are endless when waiting to go to a rooftop bar in Phuket! Depending on which one you choose to visit, the sunset views are breathtaking, and it's a great way to end your day after exploring the beaches and town.
Chillva Market
If you're looking for more markets to explore, you can always visit Chillva Market, located at the entrance of Phuket Town. Chillva is an authentic night market that is available Wednesday-Saturday and offers various products for people visiting. You can buy souvenirs, try out the local cuisine, and if you've got the guts, you could always try the famous fried insects!
Simon Cabaret Show
The Simon Cabaret Show, located in Patong Beach, Phuket, has been performing for over two decades. So if you prefer to end your day with a spectacular show, this is the place for you! It's a colorful and entertaining show, and all of the gorgeous female dancers are, in fact, men!
Day 2
The best way to spend your second day is to book a boat tour to explore the surrounding islands and see some once-in-a-lifetime attractions and spectacular views.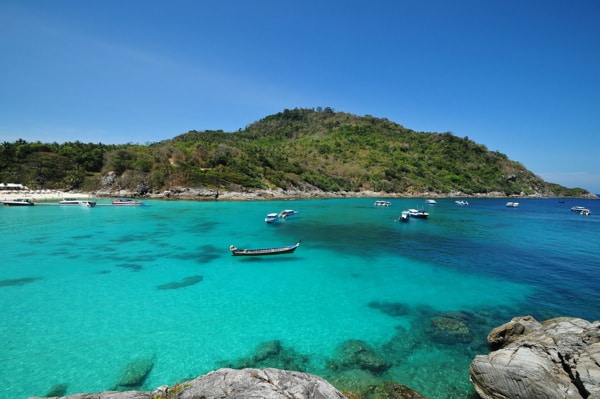 Morning & Afternoon
Phi Phi Islands
Most people would say you need to stay a couple of nights to explore Phi Phi island. But, if you've planned an entire day trip, it is perfectly fine and possible; you'll have plenty of time to explore the island's secret beauties and breathtaking attractions.
Raya Island (Racha Island)
Raya Island is a popular destination for many tourists, and it's a perfect small island to spend a day. If you're into scuba diving or snorkeling, this is the ideal place to do it; the water is crystal clear, blue, and excellent for these activities.
Phang Nga Bay
If you're debating which island you should visit for a day trip, Phang Nga Bay should be at least the top three of your list. The sights you'll experience on this island are indescribable! Phang Nga Bay has beautiful oceans, fascinating limestone formations, and sea caves to explore. In addition, Phang Nga Bay is one of the few islands you can visit during the low season, thanks to its sheltered bay and calm seas.
Evening
Dinner, Drinks, and Sunsets
You can enjoy a delicious dinner and cooling cocktails if you want something relaxing to end your day. Phuket has some of the best and least expensive restaurants and bars you can visit while still having the best experience. Many restaurants around the island can fit your budget and the experience you are looking for.
Bangla Walking Street
If you're looking for nightlife and partying, Bangla Road is the place for you! Bangla Road is a very well-known destination for many tourists. The streets are full of life with colorful and vibrant restaurants, shops, bars, and dancing girls. Even though the roads are busy, it's an accessible location to navigate, so don't feel overwhelmed if you do decide to visit.
Clubbing
If you're looking to end your day with a bang, you should visit a club in Phuket. If you're curious about what a Go-Go bar is, you will have the opportunity to visit one while in Phuket, Thailand. The partying experience is out of this world!
Day 3
End your visit with exploring and sightseeing. There are various landmarks and attractions that Phuket is well known for, which you can visit during the day, and then end your trip with a cocktail in your hand and the sea on your feet.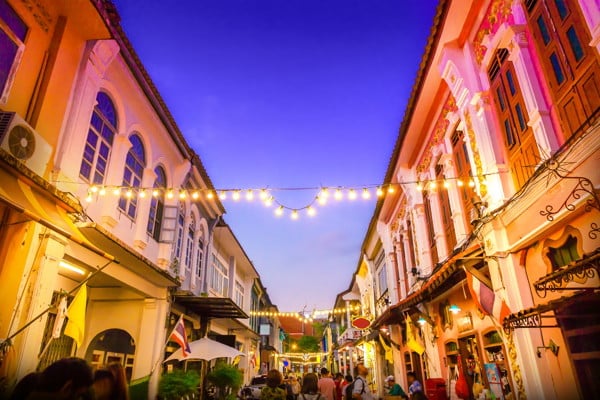 Morning
Big Buddha
The Big Buddha, built in 2002, is considered one of Phuket's most famous attractions. The massive white marble Buddha statue is undoubtedly not something you see every day. However, getting to the location is very easy and accessible by car or motorbike if you want to drive yourself, or you could also book a day trip which takes you.
Karon Viewpoint
Karon viewpoint offers spectacular views and impressive sights. You can see three of Phuket's famous beaches Kata Noi, Kata Beach, and Karon Beach. Even though it is a high viewpoint, it is very easy and accessible, you can travel by car or motorbike, and there is parking space available while you enjoy the view. Since there is nothing else to do, people usually stay for a few minutes, enjoy the view, and take a few pictures.
Wat Chalong Temple
Wat Chalong is one of the most admired temples in Phuket, and it's very close to the Big Buddha statue. The building is magnificently decorated and built, and the color compliments the blue skies, making perfect pictures. It's free to enter; just remember to remove your shoes and hats when you, dress appropriately, and be respectful.
Afternoon
Nai Harn Beach
You can never get tired of the beautiful beaches when you're in Phuket. Nai Harn is south of the island and is known for its soft sand and crystal clear water. There are restaurants where you can have lunch or a snack and get a beach massage to relax before you leave.
Karon Beach
Karon Beach is where you have to go if you're looking for a beach to swim, relax, and tan. There are no attractions or landmarks near the beach, but it's perfect for people who want to spend their day relaxing by the sea.
Kata Beach
Kata Beach is probably the second most popular beach in Phuket. Even though it can get quite busy, since it is so large, you won't be able to tell. There are many restaurants available where you can try Phuket's local cuisine before leaving and many shops to visit and do some last-minute shopping!
Evening
Night Market
Malbin Plaza Night Market is an enjoyable last-day place to visit. You can walk, eat, drink, shop, and take photos in the same place. It's open Monday-Sunday and easy to access if you are in or around Patong. Malbin Plaza Night Market is an excellent place to experience what a market is like in Phuket.
Beach Club
End your trip with a cocktail in your hand and the warm, soft sand on your feet. Having some drinks accompanied with a plater or tapas while enjoying the sunset will make you feel relaxed. Many beach clubs are available on the west coast, but depending on where you are staying, you could always search for the nearest one.
Category
Recent Posts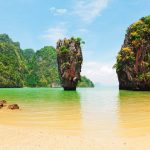 8 Dec 2022
The incredible James Bond Island
read more