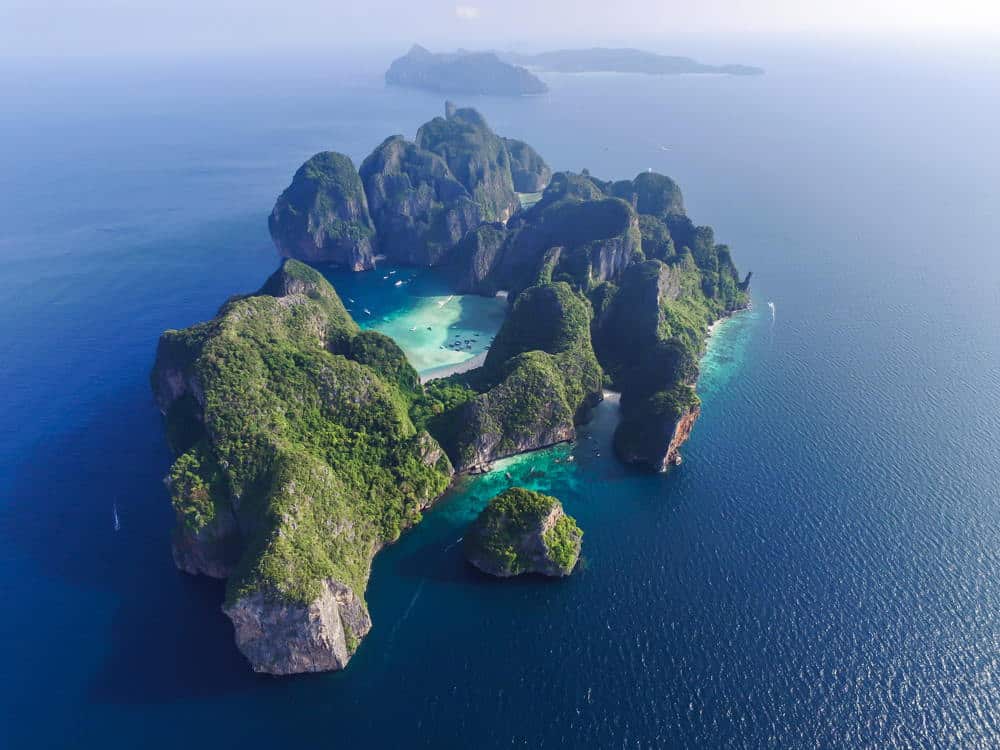 7 Jan 2023
The Phi Phi Islands – All You Need to Know
The Phi Phi Islands have reopened to the public since the Covid-19 pandemic. The stunning beaches and nearby islands are as beautiful as ever since no tourists or locals were visiting.
The famous Phi Phi Islands
Phi Phi Islands, or Koh Phi Phi, is one of the most popular destinations for tourists visiting Phuket. They are a collection of islands located 40km south of Phuket.
Since the Phi Phi Islands are the most popular destinations around Phuket, you can expect the beaches and islands to be a bit crowded.
However, this can be avoided by traveling on an early-to-leave Phi Phi speedboat tour such as that offered by Two Sea Tour.
How to get to the Phi Phi Islands
There are two main ways to get to the Phi Phi islands, one is by ferry, and the other is by speedboats. Prices vary, but a ferry usually costs around 400 bhat and takes roughly 2 hours to reach Phi Phi from Phuket. In comparison, speedboat rides cost approximately 900 baht/per person but only take 50 minutes to get to the Phi Phi Islands.
Visit the surrounding islands in Phi Phi
The Phi Phi Islands are made up of several islands, but only one has hotels and places to stay. Most islands in Thailand start with 'Koh,' which means Island in Thai.
Koh Phi Phi Don Island
Koh Phi Phi is the main island that everyone visits. This is where you will find most hotels, restaurants, and the life of the islands. If you're looking to party, you can visit Phi Phi Don and have a great time!
Koh Phi Phi Leh
The famous Maya Bay is located in Phi Phi Leh, which was closed for three years because of the pandemic. It's only a few kilometers south of Phuket and roughly 30 minutes by boat.
While you're at Koh Phi Phi, take some time to visit Koh Bida Island, which is further south and is famous for its scuba diving locations.
Koh Yoong, also known as Mosquito Island, is also nearby and worth taking a trip to!
Tonsai – phi phi central
Phi Phi Don may look scary and confusing to some, but it's pretty easy to navigate. It's between 2 bays, Tonsai Bay, where you would arrive, and Loh Dalum Bay, where you would find the main beach.
Walking down the town center roads, you can see all types of shops, including a tattoo parlor, bars, scuba diving centers, restaurants, massage parlors, and many more!
We wouldn't recommend visiting the shops in the morning since most are shut, mostly because people are at the beach and exploring the nearby islands. But, don't worry; the shops stay open until late at night to accommodate tourists who want to explore Loh Dalum by night.
By the afternoon, the streets start getting filled with tourists and locals alike. You'll see a lot of people shopping, having an afternoon happy hour at a local bar, or getting a tattoo!
Since there are so many restaurants in the area, you'll find something to please your taste buds. From authentic Thai food to fusion cuisines, you will not be disappointed.
Since Covid, the island is still trying to recover from the lack of tourists and nightlife. After 9 pm, you will see bars starting their fire shows, live bands performing, and Muay Thai fights. Just like the restaurants, the bars don't lack options, but if you want a good night, we recommend visiting Loh Dalum Bay, where you can watch the most memorizing fire shows.
Long Beach
Long Beach is one of the most stunning sandy beaches on the Phi Phi Islands. Long Beach is home to some of the best luxury hotels; if you're looking to relax and be pampered, stop by the Phi Phi Villa Resort.
What to do in Phi Phi
Loh Dalum Bay
Loh Dalum is the sizeable shallow beach you can see on the right-hand side from the viewpoint. This part of the island is tiny, and you can walk from Tonsai to Loh Dalum, only 160 meters away.
You can find hotels, restaurants, and bars after bars on the beach where there is a party every night!
Kayaking is also popular in Loh Dalum Bay, where you can kayak and explore nearby islands.
Phi Phi Viewpoint
Phi Phi Viewpoint may be challenging to reach, but it's definitely worth the trip!
Ensure you protect yourself from the mosquitos since they are all hidden away in the shady parts of the trail.
After reaching the top of the first flight of stairs, you will reach the first viewpoint. If you want to continue to go further up, there is a ticket counter which costs 30 baht to continue from that point on.
Scuba Diving in the Phi Phi Islands
Scuba diving in the Phi Phi Islands is undoubtedly an experience you will not want to pass on! The Phi Phi Islands are a unique place to go diving and explore all of the local aquatic beauties.
Don't worry if you've never been scuba diving before; there's a handy option called 'discover scuba diving,' which doesn't require any previous experience. All you have to do is go through a short instruction course which is usually given to you on the way to the diving site, and you're good to go!
Partying in the Phi Phi Islands
Slinky
If you're looking for a one-of-a-lifetime fire show, you must visit Slinky. It's a beach bar famous for its fire shows and music, right on the beach!
Reggae Bar
Don't be fooled by the name, Reggae Bar, has nothing to do with reggae music. This bar is famous for its friendly Muay Thai fights that customers are usually encouraged to participate in. You'll be wearing head protection, and it doesn't involve getting (too) hurt!
Where to Eat on the Phi Phi Islands
Even if you have a picky taste, you will undoubtedly find something to eat on Phi Phi Island. You can visit many restaurants and fast food stores, which will leave you wanting more.
Le Grand Bleu
If you're looking for authentic French food, Le Grand Bleu is the place for you! This is a famous French restaurant which has been around since 1992!
Ciao Bella
Located on Loh Dalum Beach, Ciao Bella is an Italian restaurant on the beach.
Tonsai Seafood
Tonsai is the place to be if you're looking for authentic Thai food. Located on the waterfront opposite Phi Phi Bayan Villa, you'll be able to find all the seafood you want!
Shopping on Phi Phi Island
On the main market road, countless shops sell t-shirts, shorts, swimsuits, and more. Don't expect to find anything here that's the same as back home, but saying that it's always enjoyable to stroll through the town center and look at all the shops.
Category
Recent Posts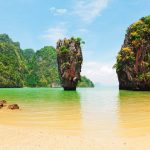 8 Dec 2022
The incredible James Bond Island
read more